WOOD DESIGN IDEAS® is born as the result of an idea developed over the years, with wood as its main and unique protagonist. We prioritize QUALITY and DESIGN in all our woodwork projects.
We are a wood design and construction company. While we specialize in prefabricated constructions using the European system and SIPs panels, with high-quality wood (wooden houses, garden houses, versatile modular spaces...), we can also undertake any other type of projects such as extensions, renovations, and refurbishments.
The company is comprised of a team of professionals specialized in wood construction, including architects, architectural technicians, interior designers, builders, workers... with a long professional trajectory in the sector.
Our main concern is ensuring customer satisfaction by making our entire team available to adapt to their preferences and needs, with the goal of achieving a high-quality end result. We offer comprehensive construction services, ranging from personalized design for each client, to project development and necessary complementary procedures with competent authorities, as well as construction, assembly, and project management.
We make all our resources available to you in order to develop your idea into a reality, as we impose no architectural or construction limitations. With wood as our primary building material, we are open to incorporating any type of variation to adapt to each client.
We specialize in all types of wood constructions:
NEW BUILDING

Prefabricated constructions with the European system and SIPs panels, in combination with HIGH QUALITY solid wood. In our projects we also integrate other materials such as stone, glass, etc., depending on each project and its needs.
We adapt to the tastes of each client with personalized designs, whether classic or modern, but always with great quality.
We carry out the integral management of the work, both in the project phase (licences, Technical Building Code CTE...), and in the construction phase (assembly, coordination and direction), until the delivery of the finished work, turnkey.

REFORMS, REHABILITATIONS, AND EXPANSIONS

We do all kinds of woodwork.
We have state-of-the-art software that allows us to work with wood to measure and in great detail, being able to respond to all kinds of reform works where special and custom pieces are needed.
We write technical documentation or project for each particular case.
DESIGN & CONSTRUCTION
DESIGN
From the first sketches to the last detail in the construction phase. Present us with your idea and we take care of everything else. We carry out the designs of our projects with all the care that each one of them deserves, always following the philosophy of our company, THE QUALITY of the design and RESPECT for the environment. We advise you at all times on aesthetic, practical and constructive issues so that you are completely satisfied with the final result. We develop different types of buildings: residential use (CTE), public use, country houses... We use SIPs panels, and wood as the main construction material, and we apply bioclimatic architecture guidelines for sustainable construction.
We also develop the design possibilities of the IE MODULES for both housing and service constructions, seeking to make the most of the potential offered by the modular system in relation to transportation, assembly and future expansions of constructions. Why not build the house of your dreams in phases, little by little, hand in hand with the needs that appear over time?
CONSTRUCTION
We are a group of professionals specialized in construction work with SIPs panels and wood, who in collaboration with manufacturers seek to provide the best technical solution for different designs and projects. We have extensive knowledge of the applicable regulations (Technical Building Code), and we take care of the technical development of the entire project, from the structure to the installations and final finishes. We work with CADWORK, one of the most powerful tools on the market for wooden constructions, which allows us to control and design in detail, being able to design all kinds of construction details, as well as integrate the installations into our construction system, resulting in projects with Design of great constructive and technical quality.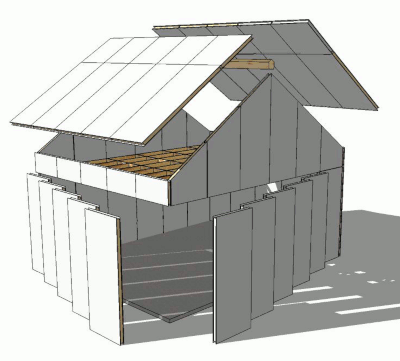 OUR SERVICES
Get in touch with us and tell us your idea. You can choose from our catalog models and customize them to your liking, or we can carry out your custom project.
We can advise you from the initial phase of the project. From the purchase of the land and obtaining the pertinent permits, to the elaboration of the project and execution of the work. We have architects who can develop any type of project, large and small. From execution projects for homes or others (CTE – Technical Building Code), to smaller projects such as country or garden houses.
Execution project execution and processing of construction license (Architects and Surveyors).
Possible supply in "Kit".: Supply in packages of the structure and wooden enclosures, with cutting for its execution and assembly.
Possibility of advice for the assembly and finishing of the house. On-site assembly advisory service by our technicians.
Possibility of supplying broken down accessories and complements for the complete execution of the work: fittings, carpentry (doors and windows), thermal insulation, finishing materials: floors, frieze, paints..., roof finishing: waterproofing, tile, slate..., plumbing, electricity, renewable energy: solar panels, heat pump