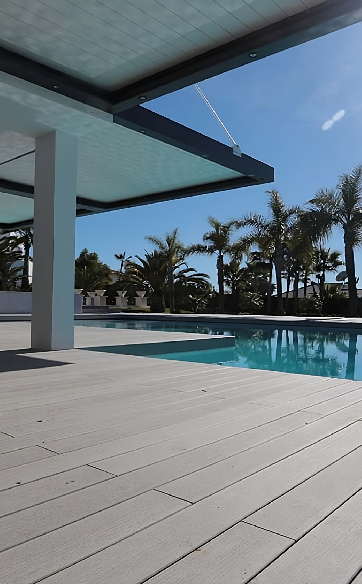 Discover our synthetic flooring for exteriors, the perfect solution for gardens and terraces. At Wood Design Ideas, we offer you high-quality synthetic flooring at affordable prices , with minimal maintenance .
Our synthetic decks have a completely natural appearance and require little maintenance . They are the ideal option for covering outdoor spaces, as they resist adverse weather conditions without problems and offer exceptional durability .
With its great hardness and stability , our synthetic decking is a smart choice for your outdoor project. In addition, their composition , based on natural wood fibers and recycled polymers , makes them an environmentally friendly option .
Enjoy the beauty and comfort of our synthetic decking, which will not only beautify your outdoor space, but will also give you the peace of mind of minimal maintenance . Do not miss the opportunity to acquire a quality synthetic flooring at an unbeatable price .
Transform your garden or terrace into an oasis of style and practicality with our synthetic outdoor decking. Contact us and discover the best option for your needs!"
Custom budget